Judges Recognize Commitment to Innovation
SARASOTA, Florida (September 14, 2022) – S-One Labels & Packaging is honored to announce our recognition as the winner of the Global Label Innovation Award for companies under 300 employees. Winners were announced on September 13, 2022, at the Global Label Reunion Party at Labelexpo Americas 2022 in Chicago.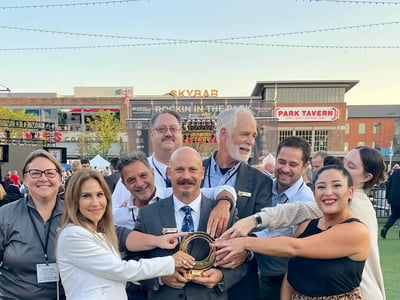 "S-OneLP is honored to have our commitment to innovation recognized by our industry worldwide," said Tom Hauenstein, VP of Sales, S-One LP. "Our focus is on developing and offering the latest advances in science and technology for label converting, flexible packaging, folding carton and corrugated packaging. Our customers expect that, and we are privileged to have their trust."
S-OneLP is the expert source for digital solutions in labels and flexible packaging including:
About S-One Labels & Packaging
S-One Labels & Packaging, a division of S-One Holdings Corporation, provides the latest technological advances for label and flexible packaging solutions to digital and conventional analog printers. S-OneLP offers technical expertise, personal service, as well as products specifically designed to meet our customers' needs. Our portfolio includes our Classic line of products as well as sustainable and flexible packaging materials and label and packaging finishing. Headquartered in Sarasota, Florida, with a satellite office in Barcelona, S-OneLP provides innovative product research, development, manufacturing, and worldwide distribution to label and flexible packaging manufacturers. Discover more at sonelp.com.